eviefae
What I love about making baby & toddler clothes is that you get SO MUCH CUTE for so little work and materials. Really, adults cannot compete with the awesome that is baby clothing. Admittedly, the baby is doing most of the work of bringing cute, but that's not going to stop me enjoying the effect!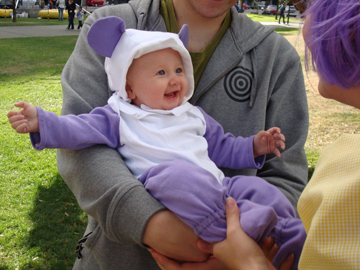 For this year's Wellygeddon, Giffy-chan was part of a group doing Strawberry Shortcake. Giffy asked me if I'd like to help, and I ended up volunteering to make her baby, Sweets, a Marzi-Panda outfit
Giffy-chan bought some fabric, but it turned out to be not quite enough. I went to try and pick up some more, but Spotlight had sold out of the exact fabric, so I had to buy some different fabric from Evans. Only ended up using the original fabric for the hood lining. Honestly - who sells out of basic white cotton interlock? Spotlight are so useless. -__-;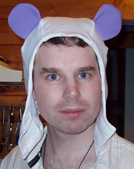 I used a combination of patterns - we went with separate leggings, romper, and hood. I used Butterick 5896 for the romper - a good, reliable, pattern I've had good luck with before. No problems there, just as expected. I used Simplicity 4434 for the leggings. No issues at all, very easy pattern. For the hood, I used a pattern I've had great success with before, Simplicity 7317. Except, this time, it let me down. Previously, I'd only used it to make toddler sized clothing. This time, I used the smallest size, 1/2, and ended up with a hood that very nearly fit Jarratt. I have a similar photo of him from the time I used it to make an outfit at 2 year old size, and the hood fit him just the same! I suspect a printing error. Clearly, WAY too big for itsy young Sweets. *sigh*
At any rate, Sweets didn't let me down - the outfit looks adorable, despite the size issues. Babies are reliable like that!