eviefae
Jarratt and I were invited to a family wedding in Australia last year - a
three day
wedding event (personally, I find the idea of a wedding going for three days absolutely insane - one day of wedding should be enough for anyone). I decided I should make a couple of dresses to wear to the whirlwind of wedding events. The first of these, I think of as my 'fireworks dress' for the fabric - when I'm not thinking of it as the 'omg, WTF Vogue?!' dress.

I really loved the print on this satin when I found it on sale at Spotlight. It's not at all my usual thing, but I thought the colours would really pop under the stronger light of an Australian sun. The pattern made me think of fireworks, which are one of my absolute favourite things.
I wanted a long dress, similar to the ones that were in the shops everywhere, but in a more appealing colour, and actually fitting me correctly. I decided to use Vogue 8360 - I liked the fitted bust and the back detailing. I figured, looking at the pattern, that I only really needed to mockup the bust area. After all, the skirt was so very simple! What would be the point? So, I mocked up the bust, it fit beautifully first try (I was shocked!), and I went on to cut out my dress and make it up. It went together just fine - really, everything was going so well...
...Until I tried it on and discovered that it made me look REALLY pregnant. *headdesk*
Should have mocked up the skirt!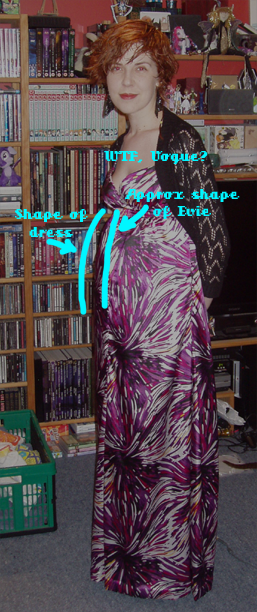 So, I unpicked, took out two inches from the front of the skirt, and put it back together. End effect, still pregnant, just not as pregnant. By this point, though, I needed to get to work on the other dress I wanted for the wedding. So, it just got to stay this shape. For now.

I didn't wear it at any of the wedding events, though. I would have been overdressed, as it turned out - the parties were more casual than I'd expected. I have worn it, once, out of sheer stubborn determination not to be defeated by it. This is me wearing it for New Years Eve - you can see, despite my efforts, that it still has a really round belly. I think the way I look weirdly shorter than normal is something to do with the photography, not really the dresses fault. Though I'm willing to lay blame with this dress instead!

I think my fabric choice contributed to the problem, but the problem would have been there no matter what - the front seam on the skirt is simply an insane shape, and the gathering towards the front only makes it that much worse. Not a pattern I'll be using again!